Lobby
 In the lobby, there are computer graphics introducing the history of the Chiran Airfield, a ceramic mural titled "Requiem of Chiran," the Hupfer piano which appeared in the movie "Summer of Moonlight" and other interesting items. There is also a shop and a rest space.
"Chiran Chinkon no Fu" 
The Chiran Requiem by Katuyoshi Nakaya, Miyazaki Prefecture.
This picture shows the Hayabusa (plane's name) burning in a ball of flames. Six heavenly maidens are helping a lone pilot to escape from the bowels of the plane and taking him to a safe destination in the sky.
Height of picture: 3 meters
Width of picture: 4.4 meters
To a "Peaceful World"
 To a Peaceful World is a shadow picture depicting the Chiran Peace Museum and Mt. Kaimon in the back of rows of cherry trees in full bloom, the sun, and tokkō aircraft flying over the sun (replica).
The artist visited Chiran to develop his plan for the project, remembered a friend of his who had died on a tokkō mission and finished the work in July 2016.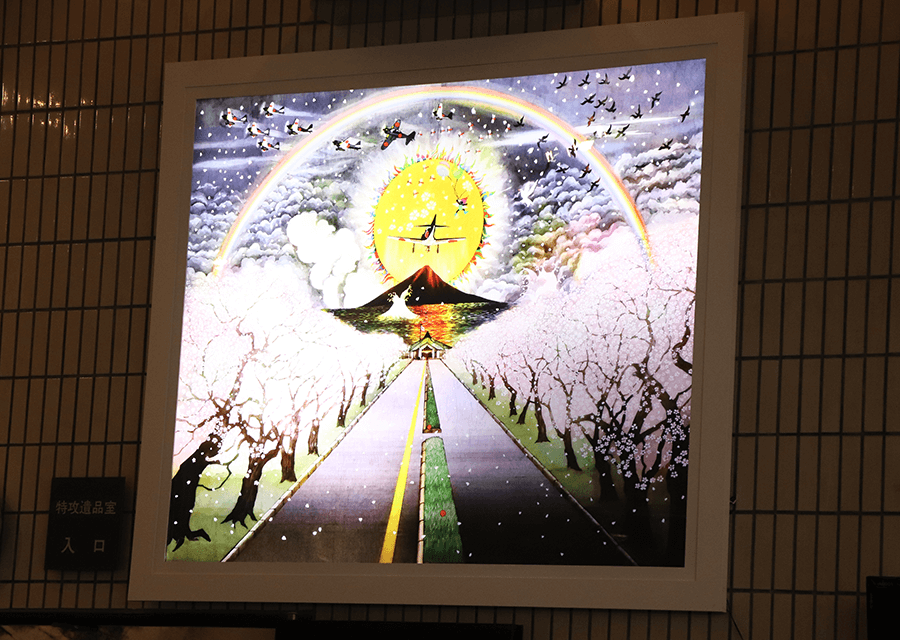 (The picture is 1.8 meters high, 2.2 meters wide and backlit by LED light.)